For people living with disabilities, transforming a house into a productive home involves more than just unpacking moving boxes and arranging the furniture. Without access to the right equipment, everyday activities that some people take for granted can present insurmountable obstacles.
It can lead to an inability to prepare food, operate the stove, wash and dry dishes, and reach items high up on cabinets and shelves. Even working at a computer while seated at a desk can be difficult or even impossible for some. Not being able to perform these vital daily tasks chips away at a person's autonomy and independence.
Fortunately, there is a practical solution: Adaptive seating
Adaptive seating systems offer a practical solution to people living with disabilities and keen on keeping their independence. Thanks to significant advancements made in adaptive seating technology equipment, people possessing a wide range of physical abilities can enjoy the comforts and conveniences of home. It all starts with having the proper adaptable seating.
Adaptive Seating Lift Chair from EMP Living
EMP Living's REAL Adult adaptive lift chair has taken assistive technology to a new level. Every feature of this ergonomic lift chair was considered with the users' needs and mobility in mind. Designed in cooperation with the Swedish Physical Therapy Institute and physiotherapist Bengt Engström, the REAL Adult adaptive lift chair is manufactured in Sweden using high-quality components.
The REAL Adult adaptive chair helps people attain a comfortable sitting or standing position. The power chair's controls can be reached easily while in a sitting position, which means the operator doesn't have to get up, make unsteady movements or reach under the chair to access them. The height and position of the seat is fully adjustable. Large ball bearing wheels affixed to a relatively small frame allow the chair to easily fit through most doorways and hallways.
What is adaptive seating?
Active seating devices encourage flexibility and mobility by allowing individuals living a life with disabilities to move. Adaptive seating devices provide children with positioning support and allows them to interact with their environments better. Adaptive car seats, seatbelt guards, and booster seats provide safety and support for children with special needs in terms of health.
Proper positioning of rollers and wedges provides proper positioning for eating, traveling, and exercising. Adjustable tables, tray and easel designs accommodate many different seating arrangements and provide a stable learning space using the latest technology.
Adaptive seating interventions whether it is for children or adults offer the best outcome in terms of facilitating a proper posture, better back rest in children, axillary supports, better independent mobility in the upper extremities for example. It is great to improve health for children and youth with better postural control outcomes according to observational studies.
There are a lot of alternative seating options such as mobility scooters, seating clinic chairs when you need medical interventions. All the adaptive seating devices offer the mobility and functional outcomes that can't be obtained with a regular chair, dynamic chairs or basic activity chair.
Who can benefit from EMP Living's adaptive chair?
EMP Living is among the best adaptive equipment retailers and thus offers a wide range of adaptive chairs and adaptive seating devices using the latest technology for a wide variety of users and clients. Our chair with hip support device will empower you and allow you to move freely (independent mobility throughout the house) and take back control of your life on your own terms and with your own skill whatever your health issues and physical disability:
Cerebral Palsy or non-ambulatory cerebral palsy
Limited movements
Limited physical function
The REAL adaptive seats offer unmatched comfort
Anyone who sits for long periods of time will enjoy our adaptive chairs over their current adaptive seating devices. Our chairs are especially helpful for people with weakness in their legs or core and anyone with poor balances and mobility challenges that require safe seating.
Who benefits from our adaptive seating devices?
It's not just people with disabilities that can benefit from adaptive chairs. Injuries or other limitations to stamina can cause individuals to have trouble getting up, or have difficulty standing for long periods of time. The natural course of the aging process can also ebb away at mobility and function over time. In 2018, the World Health Organization reported that one billion people worldwide needed at least one assistive technology device. The most commonly used items were walkers, canes or crutches.
Customers with the following conditions and disability domains have benefited from our chairs:
Age related muscle weakness;
Multiple Sclerosis;
Mylalgic Encephalomyelitis;
ALS, Lou Gehrig's disease;
Cerebral Palsy or any severe palsy or Non-ambulatory Cerebral Palsy;
Muscular Dystrophy;
Spinabifida;
Dyspraxia;
Myotonic Dystrophy;
Amputation;
Stroke;
Graves Disease;
Myasthenia Gravis;
Guillain-Barre Syndrome;
EMP living believes that everyone deserves to live in a home that meets their needs and empowers them to lead productive, happy lives. With the REAL Adult adaptive chair, the freedom to live well is just a touch of a button away.
What adaptive chairs are offered at EMP Living?
Adult mobility chairs
The REAL Adult adaptive chair is powered to adjust the height and positioning of the seat so that you can reach more places, sit at eye level with others and ensure you are in a comfortable sitting or standing position.
Child adaptive seating device
Every child deserves the chance to play and learn. Our REAL Child activity chair is designed to support children with physical limitations so they can actively participate in a range of activities at home and school.
Big & Heavy adaptive seating
Our REAL Big & Heavy Chair was developed specifically for plus-sized users. Carrying extra weight puts strain on the body, which can lead to pain in the joints, knees and back. A functional and stable bariatric chair provides pain relief and helps you sit longer and more comfortably.
Lift chair
The REAL Lift can be used at the kitchen table, at your desk and in your family room or bedroom, anywhere you need to sit or stand. The large wheels make it easy to move the chair from one room to the next and the REAL Lift fits through doorways.
Discover more about the REAL assistive chairs
What is the difference between the three models of adaptive seating you're currently offering?
The difference between the pediatric and adult models of adaptive seating devices is the size of the frame. The bariatric chair has many differences. It has a much larger frame which is reinforced for the higher weight capacity. The bariatric chair has two height adjustment actuators and is not available with the tilt function. The element that doesn't change is the quality of our adaptive seating systems and the increased mobility they offer.
Who distributes the REAL Mobility chairs?
Washington State-based EMP Living distributes the REAL mobility chairs in North America.
What functions on the chair are powered?
Multiple components on the chair can be powered, such as the height, tilt, backrest and brake
How high does the chair go?
Chairs come with two height options. The low chair goes to a height of 23.6in and the high chair goes to a height of 29.5in. The seat cushion will add another 2-4in.
How much does the chair tilt?
The seat tilt has a wide tilt span with a maximum tilt of 15 degrees forward and 23 degrees backward. The powered backrest can add an additional 30 degrees backward tilt.
Are the armrests removable?
We offer two armrests options. The standard armrests act as lateral supports and are adjustable up and down and when in the down position they are out of the way at seat level. We also offer an arm rest that folds backward, behind the back rest.
Do the armrests move with the seat tilt?
We offer two options. Armrests that move with the seat tilt for a greater range of motion or armrests that do not move with the seat tilt.
Does the chair have a brake?
Yes, the chair has a safety brake. The brake works by lifting the back two wheels slightly off the ground. This keeps the adaptive seating devices from moving when weight is applied to the seat. An optional brake that lifts all four wheels is also available.
Do you offer footrests?
Yes, we offer various types of footrests. Some are removable, some fold out of the way and some are stationary.
What other accessories are available?
We have a wide selection of accessories. Almost anything that you can get for a powered wheelchair we have available. These include leg rests, head rests, neck rests, seat belts, push bars, armrests, tables, seat and backrest covers, leg supports, side supports, thigh supports, abduction blocks plus many more. See our postural control accessories for more information.
How big is the chair?
The frame for the seating for children is 16.9 in wide and for the adult chair it is 18.9 in. The seat cushion and armrests will add on top of this but the total width is usually less than 26in which allows the chairs to fit through most doorways and around most homes.
How much does the chair weigh?
The final weight of the chair will depend on the configuration and accessories. The pediatric and adult chairs usually weigh between 40 lbs and 80 lbs.
What is the weight limit for the chairs?
The pediatric chair has a weight limit of 154 lbs and the adult chair can support up to 330 lbs. The bariatric chair has a weight limit of 605 lbs.
What color is the chair?
The chair frame is black and of high quality.
What fabrics are available and in what colors?
We have both cloth and skai fabrics available. Our color selection can be found here. All of our cushions are upholstered in house. If you have a different fabric or color, we can customize the cushions for you.
Do you have covers for the seat and back rest?
Yes, we have covers for both the seat and backrest in the same materials and colors. We also waterproof covers in gray. All of our covers are machine washable
Are your seat and backrest covers washable?
Yes, you can remove the seat and dynamic backrest to wash them. Be sure to wash them delicately so that you don't damage the major components or any critical component.
Do you have a waterproof seat and backrest cover?
Yes, we have quality waterproof covers in gray.
What is adaptive seating technology?
Adaptive seating technology is a sub-category of assistive technology, which the United States Assistive Technology Act of 1998 defines as any "product, device, or equipment, whether acquired commercially, modified or customized, that is used to maintain, increase or improve the functional capabilities of individuals with disabilities." While many general-use products can help people with disabilities to lead more rewarding and productive lives, adaptive technology is designed specifically with that purpose in mind.
Check out the reviews from our existing customers and see how satisfied they are!
Are you interested to learn more about our adaptive seating solutions? Our lift chairs can be fitted with many different options and accessories. Contact EMP Living here.
Are you interested to learn more about our adaptive seating solutions? Our lift chairs can be fitted with many different options and accessories. Contact EMP Living here.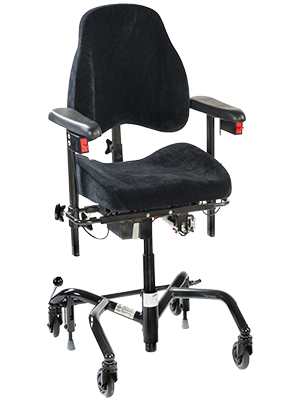 Powered adaptive chair for adults. Operate the chair without getting off. Easily move the chair around your home or office. Use your legs safely while sitting. Do more independently and safely.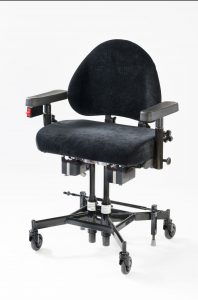 A chair for heavy users. Ergonomically designed with powered seat height adjustment and a weight limit of 605 lbs. Built with a reinforced frame, seat and backrest.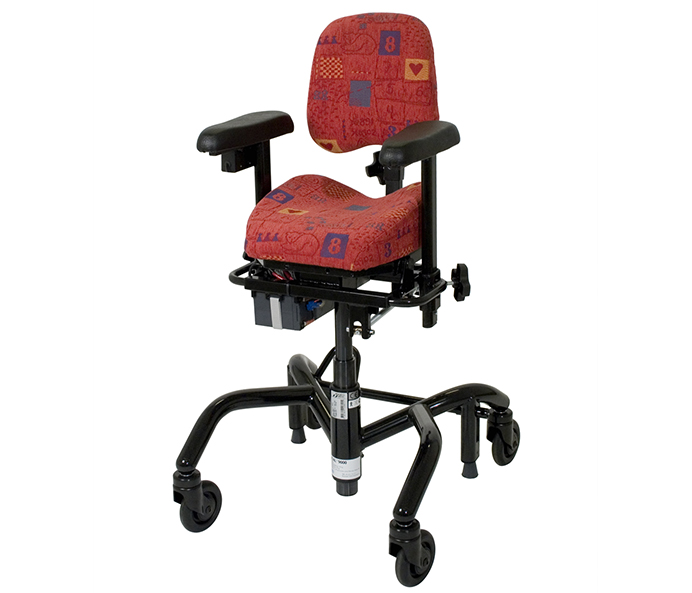 Our chair for kids. Same benefits and design as our adult with a smaller frame. Perfect from home or school. Designed and built to grow and kids grow.