REAL X-RAY - Clinical X Ray Chair
Challenges faced by X-ray specialists
Medical professionals face multiple challenges when taking care of patients, and taking X-rays can be made difficult by a number of factors. When examining elderly patients, or patients with reduced mobility or difficulty walking, it is important to give them both an efficient and comfortable experience. 
Asking them to get up and sit down multiple times is not ideal, and moving them to different devices, positioning them appropriately and having them keep stilll puts a strain on patients. The X-ray procedure can be made much easier and faster with great equipment. EMP Living offers an advanced, safe and comfortable X-ray chair: the REAL X Ray chair.
A mobile chair for X-ray departments with optional radiolucent backrest
Taking X-rays of patients who cannot sit or stand safely by themselves is challenging and time consuming. Our REAL X Ray chair is designed for these patients.
Our REAL X Ray provides support for the patient ensuring a safe procedure. The powered height and tilt controls and the foldable armrests allow the technician to quickly position the patient for imaging tests. The radiolucent backrest enables taking X-rays of the back and spine while seated.
Our X-ray chair is developed and manufactured in close cooperation with Swedish radiologists, taking ergonomics, functionality, flexibility and ease of use into account.
What to look for in an X-ray chair?
A chair that is easy to use and adjust during procedures
An X-ray chair is subject to strict demands from doctors, nurses and patients. In order to carry out an examination with the patient in a seated position, the chair must be functional and easy to adjust in addition to working well with X-ray equipment in general.
Medical experts look for features such as adjustable seat height, chair hands and headrest to keep the patient in a stable position when taking an X-ray image. Our X-ray chairs are designed with a focus on ergonomics, function and flexibility: a remote control is used to adjust the electric height setting of no less than 28 cm. This gives staff the freedom to adjust the chair even at a distance.
A device that offers security
For patient safety, the REAL 8100 X-ray chair has a convenient, newly designed, fully welded underframe with a safe, easily operated brake. The chair's brake can be applied using either a pedal or lever (either manually or by remote control). The mechanical protractor (± 90˚ at 5-degree intervals) makes our product the perfect chair to X-ray the patient from the desired angle. 
The seat angle is reset when pressure is applied to the foot control at the rear of the frame. The adjustable seat angle, forwards and backwards, makes it easy to find the correct position for the patient and to go from one X-ray device to another. 
Equipment that is comfortable for the patient
As with all our products, a great importance is given to comfort and to allowing a patient to rest comfortably during an X-ray. The entire chair distributes weight evenly and effectively, and prevents the user from sliding forward when the seat is angled. The back edge of the seat is lowered to increase the sitting depth. This allows the seat bone nodules to move backwards when the patient's spine is stretched, reducing discomfort for the patient.
Certifications of quality
The REAL X Ray chair is developed and manufactured in-house in Sweden. The chair is EMC-tested at Intertek and approved in accordance with EN 60601-1-1 and EN 60601-1-2. The PLUS-frame is tested at Sveriges Tekniska Forskningsinstitut (SP) and approved in accordance with EN:1335. Strict quality requirements guarantee many years of safe operation.



Seating for Easy and Safe Procedures
The REAL X Ray chair is designed to ensure a safe, comfortable and quick procedure every time, for every patient.
REAL X Ray Chairs come with powered height control. A manual foot brake is included and a powered brake is optional. Seat tilt is optional. Chair height can be changed while sitting and controls are located on a remote.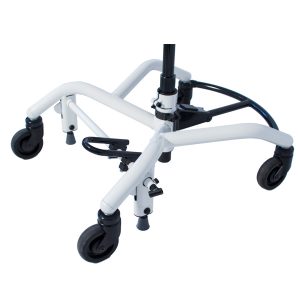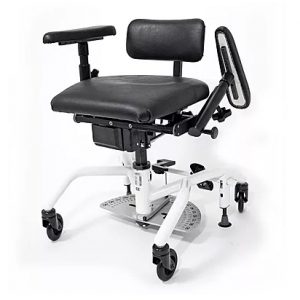 Multiple seatbacks are available for different imaging needs. Armrests, seatbelts and a safety brake keep every patient safe and stable. Our device can accommodate up to 150 kg/330 lb of weight.
REAL X-ray chairs are modular. Our X-ray examination chair is customized with accessories for your requirements. A variety of seat backs, brakes, footrests, tilt options plus others are available.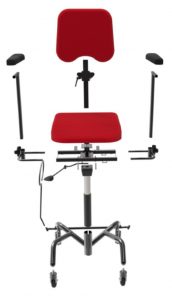 Innovative chair backrest for maximum comfort
The transparent backrest provides the ability to quickly align the "cross" on the patient, for more accurate positioning and scanning. This backrest is very "all-round" and also works well for a range of other needs, such as chest X-ray, eliminating the need to switch back and forth according to patients and situations. All backrests are also adjustable in height, angle and depth.
Specifications
Maximum user weight 150kg/330lbs
Seat height adjustment: Measured to bottom of seat. May vary based on final configuration

High 47 – 75 cm (Standard)
Low 40 – 60 cm

Electric seat tilt: 15° forward and back standard. Other options available.
Electric backrest: 30° backward. Requires leg extensions
Seat Width: 20.5in – 28.3in
Backrest: Multiple options available
Brochures
Accessories
Try our chairs for 30 days
We are sure you will like it but If you don't, you can return in for a full refund minus shipping costs
Powered adaptive chair for adults. Operate the chair without getting off. Easily move the chair around your home or office. Use your legs safely while sitting. Do more independently and safely.
Our chair for kids. Same benefits and design as our adult with a smaller frame. Perfect from home or school. Designed and built to grow and kids grow.
Call or email for more information
We can set up a video call to show you the chairs and answer any of your questions