A Lift Chair you can use and move throughout your home
The REAL Lift is a lift chair that you can use and move throughout your home. The REAL Lift can be used in the kitchen table, office, bathroom family room, bedroom, anywhere you need to sit or stand. You can use the REAL lift to sit at your kitchen table or at your desk. The large wheels make it easy to move the chair from one room to the next and the REAL Lift fits through doorways.
Most of the lift chairs that are available today look like standard reclining chairs. They are large, padded chairs that recline and are typically used in a living room or family room setting. These chairs are comfortable and are great for relaxing in one place but they are bulky and not portable. They work great in the living room but what about the kitchen, the office or the bedroom? You need to sit and stand in these rooms too! This is where the REAL Lift can help.

Designed and manufactured in Sweden, REAL chairs come with a 30 day money back guarantee and a 10 year warranty.
Seating for Independent Living
The REAL Lift is designed to be functional. The large wheels, small size and easy to use controls make it is to use by anyone anywhere.
The REAL Lift comes with powered height and tilt controls.  The controls are under the armrests and are easy to operate and the powered height control allows you to raise and lower the chair while seated.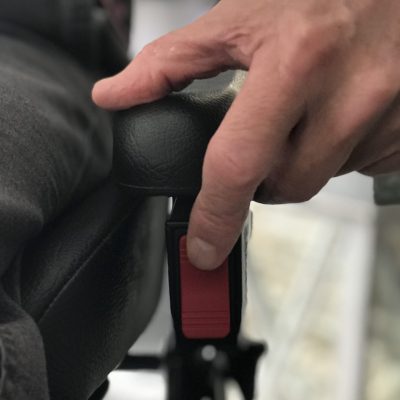 REAL chairs have a small frame and large easy to roll wheels. They can easily be moved around your house and will fit through most doorways. They can be used in your kitchen, bathroom, office or anywhere else you need to use your chair.
REAL Chairs help you transfer to other places you may need to go such as your bed or a couch.   You raise or lower the chair to the right height, lower the armrest and slide over.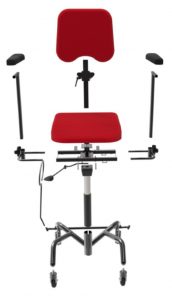 Specifications
Maximum user weight 375 lbs
Seat height adjustment: Measured to bottom of seat. May vary based on final configuration

High 47 – 75 cm
Low 40 – 60 cm

Electric seat tilt:

Maximum 30° combined forward and backward
Maximum 23° either forward and backward

Electric backrest: 30° backward. Requires leg extensions
Seat Width: 11.5in – 19in
Backrest: Low and High options available.
Brochures
For a more detailed overview of the REAL Lift make sure to visit out brochures page here and open the REAL Adult 9100 Brochure.
Accessories
The REAL Lift can be customized with a variety of options and accessories.  Click here for more information.
Try our chairs for 30 days
We are sure you will like it but If you don't, you can return in for a full refund minus shipping costs
Powered adaptive chair for adults. Operate the chair without getting off. Easily move the chair around your home or office. Use your legs safely while sitting. Do more independently and safely.
Our chair for kids. Same benefits and design as our adult with a smaller frame. Perfect from home or school. Designed and built to grow and kids grow.
Powered mobile chair for imaging centers with radiolucent backrest. Keeps patient safe and allows technician to easily adjust the patient for the correct image.
Call or email for more information
We can set up a video call to show you the chairs and answer any of your questions