Accommodating patients with mobility limitations in the clinical setting has long been neglected in the world of medical technology.
Multiple studies have shown that patients with mobility differences are twice as likely to receive poor preventative and diagnostic treatment. Other studies have shown that patients with mobility limitations are more likely to fall or be injured when undergoing medical procedures.
Patients with mobility limitations indicated in a survey that simple tasks—like transitioning to an exam table, onto an X-RAY machine, or standing still—are common issues because so many medical facilities lack adaptive equipment.
Patients are not the only ones who are struggling. Providers have said that it takes additional time to position patients with mobility challenges. Patients often cannot move themselves into position or stay in the correct place. Providers end up assisting the patients, which puts the safety of the provider and patient at risk. Providers often use self-made devices or devices meant for other purposes to help these patients. These self-made or repurposed devices have their own safety risk.
What's the solution?
With its "ergomedic" design, the Swedish-made REAL adaptive lift chair is a revolutionary breakthrough for patients with physical limitations.
Designed by a Global Expert in Wheelchair Design
The REAL Chair was designed under the partnership of the Swedish Handicap Institute and Swedish physiotherapist Bengt Engström, a global expert in chair design. His expertise spans more than 35 years and focuses on seating and streamline mobility.
His designs broke tradition with bulky, limited-use adaptive chairs and opened the door to user-friendly designs. Chair functions, such as height and tilt, are powered, and REAL Chairs come with a safety brake. All controls are readily accessible and easy to use.
Engström designed the ergomedic seat to distribute the weight of the patient more evenly to relieve pressure on the buttocks. This alleviates the pain that comes with sitting for long periods of time. 
Safer, More Efficient X-Ray Exams
The REAL X-Ray Chair makes imaging procedures safer and more efficient for both patients and providers.
The REAL X-Ray Chair has several features—including powered height and tilt controls—that allow the X-Ray technician to quickly position the patient for imaging.
More importantly, the REAL Chair has a unique radiolucent backrest that allows the patient to stay seated during imaging appointments. The radiolucent backrest is especially useful for:
Scans of the cervical and thoracic spine
Chest X-Rays
Patients with scoliosis
The REAL X-ray Chair allows the patient to be positioned more quickly, which leads to a quicker procedure. This is more comfortable for the patient and allows the imaging center to serve patients more quickly and increase the number of patients they see.
The angle, height, and depth of the seat of the REAL X-Ray Chair can be micro-adjusted. The patient can easily find the perfect, most comfortable position. This also helps patients with confidence as they can adjust their chair to maintain eye-level contact before and after the procedure. 
The design of the REAL X-Ray Chair includes:
A small-but-sturdy frame that provides maximum maneuverability and the ability to fit through small places, such as doorways and hallways
Large wheels supported by an advanced ball bearing wheel system
A manual brake, or powered safety brake, that can be operated by either a foot pedal or easy-to-reach controls.
ENDLESS POSSIBILITIES
The REAL X Ray Chair is outfitted with revolutionary features, including:
A remote-control system that gives technicians the ability to operate the X-Ray Chair's adjustment features from a distance
A modular design that can be customized with a variety of accessories to meet the specific needs of a clinic, including different styles of backrests, brakes, footrests, tilt options, and other accessories
The innovative chair is finished in skai, an imitation leather with several color options. Its exposed metal frame is finished in a powder-coat white.
Learn More About REAL Chairs
The REAL X-Ray Chair is just one of EMP Living's many adaptive chairs, which include:
Additional chairs are available for eye examinations, clinical examinations, and workplace environments.
REAL Chairs can accommodate users up to 605 pounds (REAL Big and Heavy). The modular design of REAL Chairs allows the chairs to change as your requirements change.
Are you looking for a high-quality X-Ray Chair? Contact EMP Living for a quote here.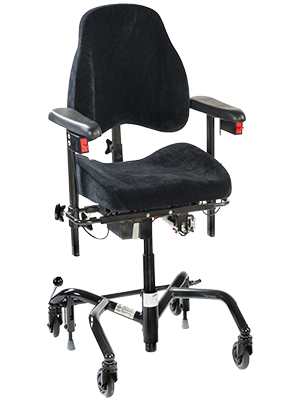 Powered adaptive chair for adults. Operate the chair without getting off. Easily move the chair around your home or office. Use your legs safely while sitting. Do more independently and safely.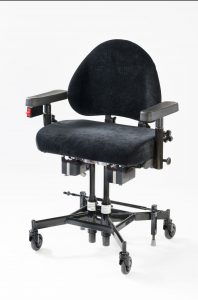 A chair for heavy users. Ergonomically designed with powered seat height adjustment and a weight limit of 605 lbs. Built with a reinforced frame, seat and backrest.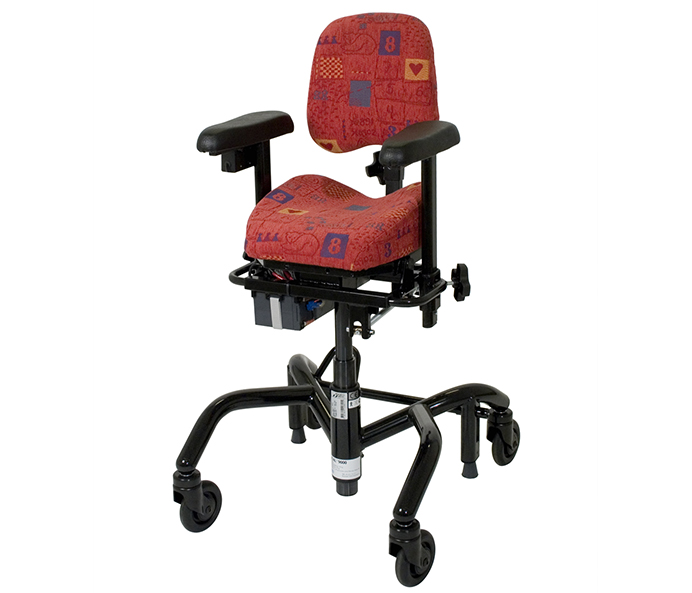 Our chair for kids. Same benefits and design as our adult with a smaller frame. Perfect from home or school. Designed and built to grow and kids grow.