REAL Child | Chair for Handicapped Child
Powered Activity Chair for Handicapped Child
Every child deserves the chance to play and learn. Our REAL Child activity chair is designed to support children with physical limitations so they can actively participate in a range of activities at home and school.    
Chair for Handicapped Child Powered with a Safety Brake
The REAL Child chair is powered with easy-to-use controls and a safety brake. Functions such as the height and tilt are powered and can be controlled from a wired remote. This allows kids to adjust the chair by themselves to the right height wherever they want to sit. The safety brake ensures kids can get on and off the chair safely.
Eating, Playing, Learning
The REAL Child adaptive chair provides support to help with all of these. The REAL Child is adjustable and provides passive and active support to ensure the right posture while offering the freedom of movement for arms. The powered tilt-in-space allows the chair to be tilted forward for optimal posture for activities such as eating or backward. The powered height adjustment ensures the right height to improve posture and reduce fatigue
Independence for Children with Disabilities
With the help of the REAL Child Chair, kids are freed from feeling helpless and dependent on others when participating in everyday activities.
Seating for Independent Living and Learning
The REAL Child is designed to be functional. It is an aide that is designed to help kids be more independent and to participate in activities at home and work. It is not just an adaptive chair, it is a hi-lo chair, standing support chair, lift chair, transfer chair, therapy chair, rehabilitation chair, transfer chair, elevator chair, riser chair and many more.
Lift Chair with Modular Design
REAL chairs are modular and are customized for each child. Seat cushions backrests can be changed as your child grows. We also offer accessories such as tables, footrests and seat belts.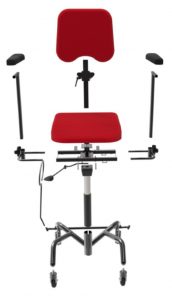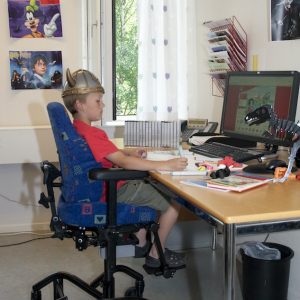 Our chairs help foster an inclusive environment. Instead of being confined to one desk at school or needing help, children can operate our chairs by themselves and can move the chair anywhere they want. In school they can use is it class, at lunch or to play with their friends. At home they can use it in the kitchen, the bathroom or bedroom. They can use the chair to play, to study, to relax, wherever they need. The simple design helps the chair fit in wherever it is used.
REAL Chairs come with powered height control and an optional powered tilt, backrest and brake. Chair height can be changed while sitting and the wired remote makes it easy to operate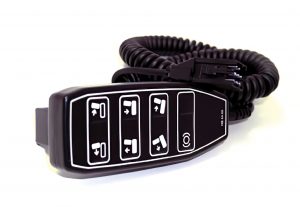 Specifications
Maximum user weight 75 kg/165lbs
Seat height adjustment: Measured to bottom of seat. May vary based on final configuration

High 47 – 75 cm
Low 40 – 60 cm

Electric seat tilt: maximum 23° combined forward and backward
Electric backrest: 30° backward. Requires leg extensions
Seat Width: 11.5in – 19in
Backrest: Low and High options available.
Brochures
Accessories
Try our chairs for 30 days
We are sure you will like it but If you don't, you can return in for a full refund minus shipping costs
Powered adaptive chair for adults. Operate the chair without getting off. Easily move the chair around your home or office. Use your legs safely while sitting. Do more independently and safely.
Our chair for heavy users with powered height control. Operate the chair without getting off. Easily move the chair around your home or office. Use your legs safely while sitting. Do more independently and safely.

Powered mobile chair for imaging centers with radiolucent backrest. Keeps patient safe and allows technician to easily adjust the patient for the correct image.
Call or email for more information
We can set up a video call to show you the chairs and answer any of your questions