Help Your Patients and Medical Staff
A mammography can be an emotionally stressful experience for patients. It is important that the exam be as effective and comfortable as possible as to make the procedure as easy as possible on the patient. 
The REAL Mammography Chair is the perfect solution to make mammograms more efficient and comfortable for both medical staff and patients.
Mammography Chair with Electric Height Adjustment
Our mammography chair helps the patient sit comfortably without restricting their movement. The powered controls help the technician get the patient in a stable, ergonomically correct position quickly leading to an efficient examination.
As soon as the patient has taken an ergonomic sitting position using our Mammography chair, an examination will be easier and more comfortable for both the medical staff and the patient:
Position your patient quickly and effortlessly using electric height adjustment, no more foot treadle and hydraulic pump;

Allow stress and nervous patients to feel relaxed and comfortable for a more pleasant experience;

Transfer a patient between machines or from a wheelchair with ease thanks to adjustable chair hands;
Optimal Seating for an Easy and Safe Mammography
The REAL products are designed to ensure a safe, comfortable and quick procedure.
Some patients, such as elderly or reduced mobility, need to stay seated through the entire consultation, and the same applies to patients that are known to faint. Using the best medical products also facilitates getting the images right: patients seated in a stable, ergonomically correct, seated position are much easier to examine. For more time consuming examinations the patient should be seated comfortably and relaxed.
Why Choose the REAL 8200 Mammography Chair?
REAL height adjustable mammography chairs come with  powered control. A manual foot brake and manual tilt are included with powered options available. Instead of a hydraulic pump and foot treadle, the powered seat and essential functions are controlled by a remote to facilitate correct positioning by the technician.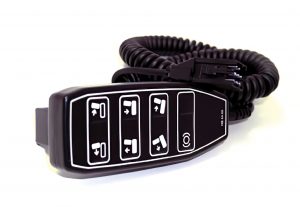 The REAL Mammography ensures the patient is in a safe and ergonomically correct position for an examination. The REAL Mammography can be used for multiple procedures and can be easily moved around the room or to different rooms to reduce any risk of injury.
Some of our mammography chairs can be positioned in a neutral position or tilted using an electric seat tilt and an electric backrest tilt. Controlled remotely by the medical staff, positioning patients for optimal imaging and patient transport to different machines is fast and efficient.
EMP Living's adjustable mammography examination chair allow confortable and ergonomic positioning during mammography screenings. Providing a chair that allows patients to relax reduces their stress and the strain imported by the procedure. Patient comfort is at the core of the REAL mammography chair.
Modular Design and Ergonomic Accessories
REAL Mammography chairs are modular, so each chair can be configured to meet specific requirements. Our mammography chair can be equipped with various adjustable segments to increase the comfort and the stability of patients while still supporting up to 150 kg/300 lb of weight. In addition to remote controls, tubular footrest, brakes and tilt options, the REAL 8200 can come equipped with:
High backrest for extra support;

Padded and adjustable polyurethane chair hands;

Hygienic upholstery;

Foldable foot ring;
Specifications
Brochures
Accessories
Specifications
Maximum user weight 150kg/330lbs
Seat height adjustment: Measured to bottom of seat. May vary based on final configuration

High 47 – 75 cm (Standard)
Low 40 – 60 cm
Electric seat tilt: 15° forward and back standard. Other options available.

Electric backrest: 30° backward. Requires leg extensions
Seat Width: 20.5in – 28.3in
Backrest: Multiple options available
Brochures
Accessories
Try Our Chairs for 30 Days
We are sure you will like it but If you don't, you can return in for a full refund minus shipping costs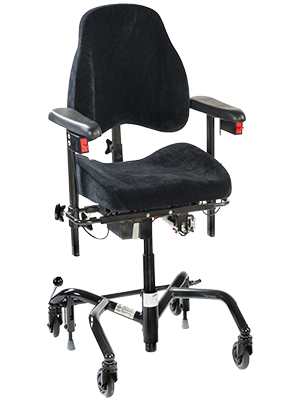 Powered adaptive chair for adults. Operate the chair without getting off. Easily move the chair around your home or office. Use your legs safely while sitting. Do more independently and safely.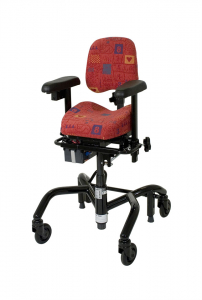 Our chair for kids. Same benefits and design as our adult with a smaller frame. Perfect from home or school. Designed and built to grow and kids grow.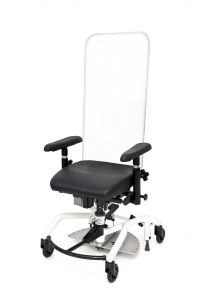 Powered mobile chair for imaging centers with radiolucent backrest. Keeps patient safe and allows technician to easily adjust the patient for the correct image.
Call or Email for More Information
We can set up a video call to show you the chairs and answer any of your questions.