Advanced Adult Adaptive Seating
If you have trouble sitting or standing or cannot stand for very long, the REAL Adult lift chair will help you do more. The REAL Adult ergonomic lift chair can help improve your quality of life by supporting you to do things you do not have the strength or stamina to do consistently or safely.
At home, our chairs assist you to perform chores, prepare meals and enjoy hundreds of other activities you find difficult or impossible to do without someone assisting you. At work and school, our chairs allow you to fully participate in many activities improving your social interactions and feeling less isolated.
The EMP Adult is a powered adaptive living aid. The EMP Adult is powered to adjust the height and positioning of the seat so that you can reach more places, sit at eye level with others and ensure you are in a comfortable sitting or standing position. The EMP Adult is not a wheelchair, it is not powered to move forward or backward.
The EMP Adult lift chair is designed to be easily operated and easy to move. You can adjust the chair by yourself while sitting. You do not need to get up from the chair or reach under the chair to look for the controls. The EMP Adult rolls easily due to large ball bearing wheels and the small frame fits through most doorways and hallways.
Do you stay in one chair most of the day because it is too hard to stand up? Do you stay sitting in one place at home or work waiting for people to come and see you? Our chairs help you stand up so that you can go where you want to go and you can take your chair with you. You can even "walk" our chairs where you want to go without getting out of the chair.
The EMP Adult is an ergonomic chair and is part of our Ergomedic seating system. This system was designed in cooperation with the physiotherapist Bengt Engström to provide support and improve posture while sitting. The Ergomedic seating system combined with our powered chair controls can reduce the fatigue and pain from sitting in one position all day long. The ergonomic design and powered controls make it easy to adjust the chair to the correct sitting position. The small frame and large wheels allow the chair to move easily around your house and office.
Seating for Independent Living
The REAL Adult is designed to be functional. It is an aide that is designed to help you be more independent by helping you with daily activities at home and work. It is not just an adaptive chair, it is a hi-low chair, standing support chair, lift chair, transfer chair, therapy chair, rehabilitation chair, transfer chair, elevator chair, riser chair and many more.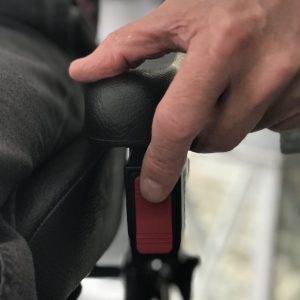 REAL Adult Lift Chairs come with powered height control and an optional powered tilt, backrest and brake. These make it easy to adjust the chair for the task at hand. The powered height control enables the height of the chair to be adjusted while seated.
Lift Chair with a Modular Design
REAL Adult lift chairs are modular. They are customized with accessories for each user and can be modified over time so that you never need a new chair. People with a variety of conditions including Muscular Dystrophy, Multiple sclerosis, ALS, arthritis, short stature, osteoporosis, stroke and others have benefited from REAL Chairs.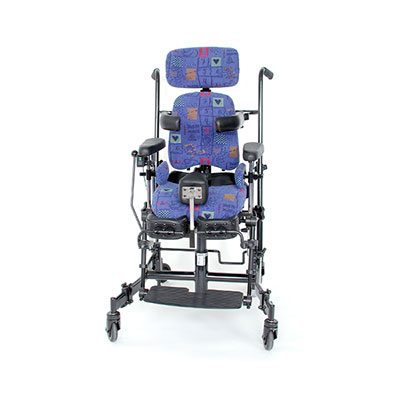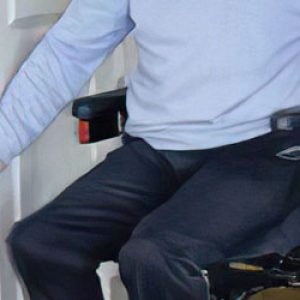 REAL chairs have a small frame and large easy to roll wheels. They can easily be moved around your house and will fit through most doors. They can be used in your kitchen, bathroom, office or anywhere else you need sitting or standing support.
Specifications
Maximum user weight 375 lbs
Seat height adjustment: Measured to bottom of seat. May vary based on final configuration

High 47 – 75 cm
Low 40 – 60 cm

Electric seat tilt:

Maximum 30° combined forward and backward
Maximum 23° either forward and backward

Electric backrest: 30° backward. Requires leg extensions
Seat Width: 11.5in – 19in
Backrest: Low and High options available.
Brochures
For a more detailed overview of this chair and others, make sure to visit out brochures page here.
Accessories
The REAL Adult has a variety of accessories to choose from. Click here for more information.
Try our chairs for 30 days
We are sure you will like it but If you don't, you can return in for a full refund minus shipping costs
Our chair for kids. Same benefits and design as our adult with a smaller frame. Perfect from home or school. Designed and built to grow as kids grow.
A chair for heavy users. Ergonomically designed with powered seat height adjustment and a weight limit of 605 lbs. Built with a reinforced frame, seat and backrest.
Powered mobile chair for imaging centers with radiolucent backrest. Keeps patient safe and allows technician to easily adjust the patient for the correct image.
Call or email for more information
We can set up a video call to show you the chairs, discuss your needs and answer any of your questions