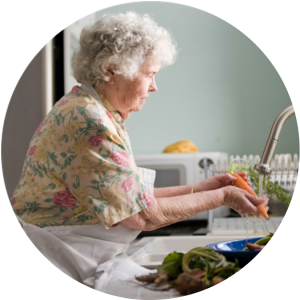 Symptoms
Poor balance but can stand and walk by myself. I have trouble getting up from a chair without assistance.
Work and Living Situation:
I live alone in an apartment. My daughter lives nearby.
Goals
I want to function and manage myself as best I can. I have to have home care for laundry and cleaning, but I prefer to avoid it because I do not trust them.
Benefits of REAL 9100
I do what I can by myself but I get tired and need to rest. I depend on my chair when I am tired to do things around my apartment. No chair; no life, I often say. I have had it since the late 90's when I started to get body aches after working my whole life in the school cafeteria. I mostly use the chair in the kitchen to cook and clean. There, the chair is invaluable, but I also use it as a walker around my apartment. When I am tired I feel safer holding onto the chair. I can also put things on the chair as I walk to help me carry things from room to room, almost like a wheelbarrow. The electric rise helps me get up and down from the chair.