Powered Activity Chair for Children
Every child deserves the chance to play and learn. Our REAL Child activity chair is designed to support children with physical limitations so they can actively participate in a wide range of activities at home and school.
How can an EMP Living special needs chair help children in everyday life?
The REAL Child: Our chairs for children living with disabilities foster an inclusive environment that focuses on child empowerment. They help children with mobility limitations actively participate in a range of activities at home and school. Instead of being confined to one desk at school or having to repeatedly ask for help, children can operate their chairs by themselves and move them around anywhere they wish.
We have more than 50 years of experience developing and manufacturing adaptive chairs and special needs activity chairs. Our adaptive chairs are customized with options and accessories to meet your needs.
Chair for special needs is child-powered with a safety brake
The REAL Child chair is powered with easy-to-use controls and a safety brake. Functions such as the height and tilt are also powered and can even be controlled using a wired remote. This allows kids to adjust the chair to the desired height by themselves so they can sit anywhere they wish. The safety brake ensures kids can get on and off the chair safely.
For eating, playing, and learning
The REAL Child adaptive chair provides support to help kids enjoy and participate in daily activities such as eating, playing and learning. The REAL Child is adjustable, providing both passive and active support to ensure children can maintain proper posture while offering freedom of movement for their arms. The powered tilt-in-space allows the chair to be tilted forward or backward to attain optimal posture for activities such as eating or therapy. The powered height adjustment allows the child to position the chair at the right height to improve posture and reduce fatigue.
Independence for children with disabilities
With the help of the REAL Child Chair, kids are freed from feeling helpless and dependent on others when participating in everyday activities. At school, they can use the chair in class, at lunch, or while playing with their friends. While in class, using the chair encourages classroom and community participation. At home, they can smoothly maneuver around the kitchen, bathroom, and bedroom. They can also use their chair to play, study or relax. The simple but sophisticated design allows this piece of specialized equipment to fit right in wherever it is needed.
Why is EMP Living Your Best Choice for Your Special Needs Chair?
We understand firsthand the challenges of choosing a special needs chair. Our daughter is medically complex with physical disabilities. She is a little person with limited balance and range of motion. She has fused elbows that constrain her upper extremity function. She needed a chair that would allow her to accomplish more and enhance her independence. 
We began looking for a piece of adaptive equipment or a chair that would accommodate her needs. We spent weeks searching for countless hours before we finally discovered the perfect chair for our daughter: the REAL Child chair manufactured by Mercado Medic. 
This adaptive chair, which dabbles as a special needs activity chair, has been life-altering for our daughter. She has been empowered to perform a long list of activities by herself, which has dramatically improved her quality of life. This led us to approach the Swedish company Mercado Medic to secure the North American distributorship.
We guarantee that our chairs will empower you to do more, plus provide you with additional mobility to perform tasks and activities independently and safely in your everyday life, home, school, work, and everywhere in between. Try our chair for 30 days, and if it doesn't help you do more, return it for a full refund. The REAL Child changed our daughter's life and we are confident you'll love it too. If you aren't satisfied, we offer a money-back guarantee.
Check out the reviews from our existing customers to see how satisfied they are with their purchase.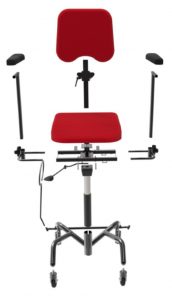 How to Pick the Perfect Special Needs Chair for Handicapped Children
Special needs seating for everyday use
Ensuring that our kids and loved ones have access to the right type of seating really matters when it comes to their daily lives. Providing ample assistance, freedom, and comfort is important for most day-to-day tasks, including eating, doing schoolwork, and therapy applications. At EMP Living, we have the best seating arrangements and items available, from tables for playing on the floor to chairs suitable for sitting at a desk.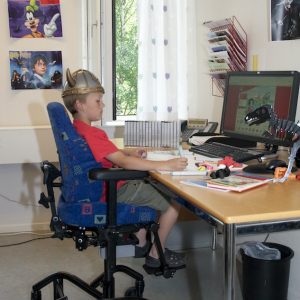 Picking the Special Needs Chair that Suits You or Your Child
We have various options for our special needs chairs, so you can determine which one is best for you or your child. A sit-to-stand (or stand-to-sit) chair is ideal for children who need to move around during focused tasks, like crafting and eating. A third option is a high-low chair, which adjusts to reach tabletop height for meals, and lowers down to floor level for playtime.
With special needs seating options, including floor seats, tables, lounge chairs, portable chairs, and recliner chairs, we offer a variety of equipment you can combine to address the particular needs of yourself or your child. Contact us to learn more. Our knowledge and friendly staff will guide you through choosing the right equipment for your needs. 
What is Adaptive Seating?
Active seating or adaptive seating encourages flexibility and mobility by allowing individuals living with disabilities to move about more freely and to be more – or even completely – independent. For example, adaptive seating devices provide children with positioning support, allowing them to interact more easily with various environments on a daily basis.
Adaptive car seats, seatbelt guards, and boosters provide safety and support for kids with special health issues. Regardless of whether we're able-bodied or disabled, our bodies aren't designed to spend long periods of time in a restricted or constrained posture.
When positioned properly, rollers and wedges provide essential support for eating, traveling and exercising. Adjustable tables, a tray, and easels allow for many different seating arrangements and offer a stable learning environment by applying the latest technology.
Adaptive seating, whether for children or adults, offers the best outcome in terms of facilitating proper posture and positioning. It offers better backrests for children, auxiliary supports, and improved independent mobility. Observational studies report the health of children improves with better postural control.
There are many alternative seating options, such as mobility scooters and seating clinic chairs that can be used when a patient requires medical interventions. These offer functional outcomes that can't be obtained with a regular chair, dynamic chair, or basic activity chair.
What functions on the chair are powered?
The REAL Child chair is powered with easy-to-use controls and a safety brake. The height, tilt, backrest, and brake can be powered.
How high does the seat lift chair go?
Chairs come with two height options. The low chair can descend to a height of 23.6 inches, and the high chair can reach a height of 29.5 inches. The seat cushion adds another 2 to 4 inches.
How much does the chair tilt?
The typical tilt for children is 8 degrees forward and 15 degrees back, but we offer options up to 15 degrees forward and 23 degrees backward. The powered backrest can add an additional 30 degrees of backward tilt.
Are the armrests removable?
We offer two armrest options. The standard armrests act as lateral supports and are adjustable up or down and in/out. In the down position, the armrests are at seat level. We also offer an armrest that folds backward to be tucked behind the backrest.
Do the armrests move with the seat tilt?
We offer two options: armrests that move with the seat tilt, or armrests that do not move with the seat tilt.
Does the chair have a brake?
Yes, the chair has a safety brake. The brake works by lifting the back two wheels slightly off the ground. This keeps the adaptive seating devices from moving when weight is applied to the seat.
Do you offer footrests?
Yes, we offer various types of footrests. Some are removable, some fold out of the way, and others are stationary.
What other accessories are available?
We have a wide selection of accessories. Almost anything you can buy for a powered wheelchair is available for our chairs, including leg rests, armrests, headrests, neck rests, seat belts, push bars, tables, seats, backrest covers, leg supports, side supports, thigh supports, and abduction blocks, plus many more. See our accessories list for more information.
How big is the REAL Child chair?
The frame for the seating on the child's chair is 16.9 inches wide. The seat cushion and armrests add more width, but the total width is usually less than 26 inches. This allows the chairs to fit easily through most doorways and move smoothly around most homes.
How much does the REAL Child chair weigh?
The final weight of the chair depends on the configuration and accessories. The pediatric chairs usually weigh between 40 and 80 pounds.
What is the weight limit for the seat lift chairs?
The REAL Child chair has a weight limit of 154 pounds or 75 kilograms. The REAL Adult can be used for larger children and has a weight limit of 330 pounds or 150 kilograms.
What color is the seat lift chair?
The chair frame is black.
What fabrics are available, and in what colors?
We have both cloth and artificial leather fabrics available. Our color selection can be found here. All of our cushions are upholstered in-house. If you want a fabric or color that isn't part of our standard line, we can customize the cushions for you.
Do you have covers for the seat and backrest?
Yes, we have washable covers for both the seat and backrest available in cloth. We also have gray waterproof covers. All our covers are machine washable.
Are your seat and backrest covers washable?
Yes, you can remove the seat and dynamic backrest to wash them. Be sure to wash them delicately so you don't damage the major components or any critical components.
Do you have a waterproof seat and backrest cover?
Yes, we have quality waterproof covers available in gray.
Specifications
Brochures
Accessories
Specifications
Maximum user weight 75 kg/165lbs
Seat height (Electric Height): Measured from the floor to the bottom of the seat cushion


High 47 – 75 cm (~18.5 – 29.5 in) plus seat cushion
Low 40 – 60 cm (~15.75 – 23.5 in) plus seat cushion

Seat cushion width: 11.5in – 19in
Chair width: Seat cushion width + 4 in
Seat tilt:


Maximum 30° combined forward and backward
Maximum 23° either forward and backward

Backrest: Low and High options available.
Brochures
Accessories
Try Our Chairs for 30 Days
We are sure you will like it but If you don't, you can return in for a full refund minus shipping costs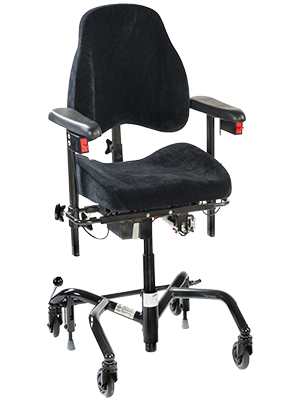 Powered adaptive chair for adults. Operate the chair without getting off. Easily move the chair around your home or office. Use your legs safely while sitting. Do more independently and safely.
Our chair for kids. Same benefits and design as our adult with a smaller frame. Perfect from home or school. Designed and built to grow and kids grow.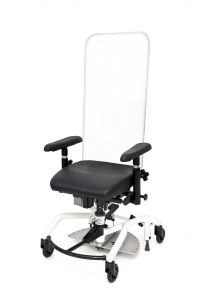 Powered mobile chair for imaging centers with radiolucent backrest. Keeps patient safe and allows technician to easily adjust the patient for the correct image.
Call or Email for More Information and Pricing
We can set up a video call to show you the chairs and answer any of your questions.