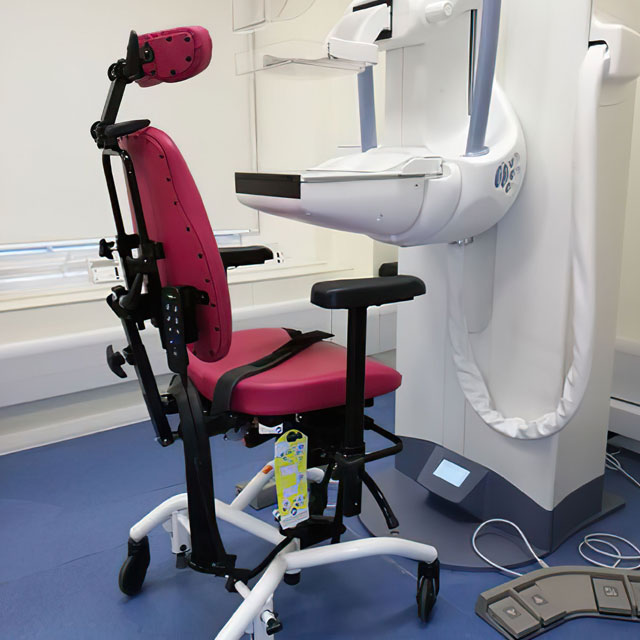 A review from a REAL Mammography Chair Customer
"I cannot overstate how delighted we are with that chair.  I realize you know all the features of the chair but the simple fact that it rolls easily in all directions and our techs can control the movement (lock, handles) is saving our techs bodies.  Initially, the techs expressed some skepticism because the chair is narrow.  Once I showed them that the arms come off, raise and lower, they were more open to seeing the functionality of the chair.  Once they used the chair, they were convinced.  It was a terrific purchase!
Our image quality on our less mobile patients has improved and the patients feel safe and are delighted that the process is so much easier than ever before.
Thank you for your help with this purchase."
Unity Point Healthcare Imaging and Breast Screening Services
Endless Possibilities
The REAL Mammography is outfitted with revolutionary features, including:
A remote-control system that gives technicians the ability to operate the REAL Mammography Chairs adjustment features from a distance
Small enough to fit in mobile Mammography Unit
Adjustable Armrests
A modular design that can be customized with a variety of accessories to meet the specific needs of a clinic, including powered tilt, powered back rest and neck rests.
The innovative chair is finished in an imitation leather with other options available. The metal frame is finished in a powder-coat white.
Learn More About REAL Chairs
The REAL Mammography is just one of EMP Living's chairs, which include:
Additional chairs are available for eye examinations, clinical examinations, and workplace environments.
REAL Chairs can accommodate users up to 605 pounds (REAL Big and Heavy). The modular design of REAL Chairs allows the chairs to change as your requirements change.