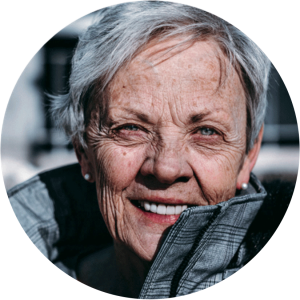 Symptoms
Initially I had difficulty sitting for long periods of time. My hips would hurt after sitting for too long. This was especially difficult at work where I sit for most of the day. As my condition worsened, I also have trouble getting into and out of my chair.
Work and Living Situation:
I live with my husband in an apartment and we have a small cottage in the country. I work from home as a photo editor.
Goals
I want to achieve as good a situation as possible. Everyone wants that, right? For me, this means that my husband and I will be able to continue to maintain our lifestyle.
Benefits of REAL 9100
I received my first chair many years ago when I was working in an office. I received a second chair when I started working from home. With the electric tilt and lift, I can easily change positions during the day and decrease the pressure that caused my hip problems. This allows me to sit comfortably for long periods of time. As my condition worsened, I now use the chair in the kitchen and other rooms in our home. The electric lift and safety brake makes it easy and safe to get into and out of the chair. The chair is also small enough that we take it to our summer cottage.