The REAL 9000 series are the premier powered ergonomic chairs on the market today. Designed by physical therapists, our chairs provide maximum comfort and flexibility in the home or office while providing maximum durability. The design of the REAL 9000 series is the culmination of over 40 years experience designing specialized seating. The compact and minimalist Swedish design allow the chairs to be used anywhere a chair is needed.
REAL 9000 series chairs come with electrically powered height and tilt adjustments to enable users to achieve the correct posture at any size desk or table and allows the chair to easily move between table and counter height settings. Easy transitions between sitting and standing are achieved by using a combination of the powered height and tilt adjustments. The powered height function allows the user to adjust the height of the chair while seated.
REAL 9000 series chairs come with either a powered or manual brake. REAL 9000 series chairs also have hand controls that are ergonomically designed and are readily accessible under the armrests instead of under the seat.
REAL 9000 series chairs have large 100 mm castors with ball bearings. The large castors provide maximum durability and allow the chair to move easily on most surfaces.
The frame is specifically designed to allow users to move around the room while seated in the chair without kicking the frame. Use your chair in the office and then easily move it to the kitchen
Seat cushions and backrests are contoured and made of memory foam material on REAL 9000 series chairs. Armrests are designed to support the full weight of the user and are made with a soft material. The armrests can also be lowered to assist with transfer to and from the chair.
The modular design of the REAL 9000 series allows the chairs to be modified for special or adaptive requirements. Multiple seat cushion sizes and materials are available. Accessories include foot rests, next and torso supports, push bars and foldable armrests. People with a variety of conditions including Multiple Sclerosis, Cerebral Palsy, Muscular Dystrophy, Dyspraxia, Short Stature or other mobility limiting conditions have benefited from use of REAL 9000 chairs.
If you sit in a chair for most of your day, need additional support when sitting or need help getting into or out of your chair, the REAL 9000 series is the chair for you.
A REAL 9000 series chair allows you to do it all; complete daily living tasks like cooking, cleaning, and working, then sit back and relax. Our seating angles adjust from assisted standing to complete relaxation.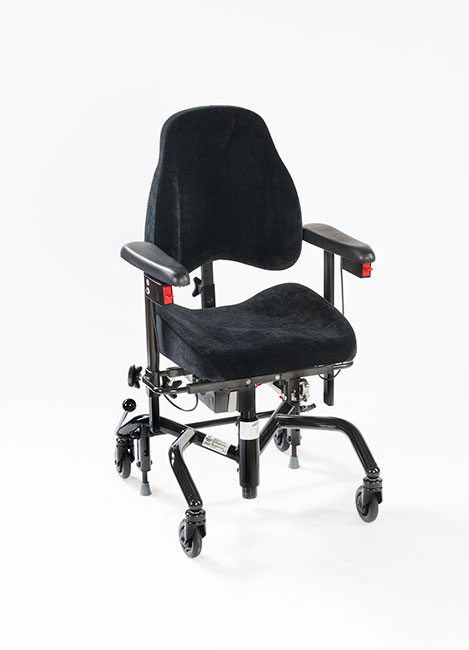 1
Ergonomic seat and backrest with memory foam material for increased comfort.
2
Soft armrests to support a users full weight.
3
Ergonomically designed PLUS star knob. Easy to grip and control.
4
Readily accessible, ergonomically designed controls. Can be positioned on the right or the left by the seat or under an armrest.
5
Easy to control electric or manual brake fitted on right or left side.
6
Electric height adjustment of 11 inches or 8 inches.
7
Well designed PLUS fram ensures freedom of movement for feet.
8
Large 3.94 inch castors with SKF ball bearings suitable for a variety of surfaces.
REAL 9000 Plus Seating: A chair to allow you to do more; a chair to complete daily tasks but also to relax in with some down time. Sit back and relax after finishing the cooking, cleaning and many other daily living needs. Our seat angles can be chosen to help with standing or just relaxing.
Purchase a standard configuration or allow us to build a chair to your specifications. Find out today if you want the new way of living with a REAL 9000 Series chair from Mercado Medic.