EMP Living
Let us introduce ourselves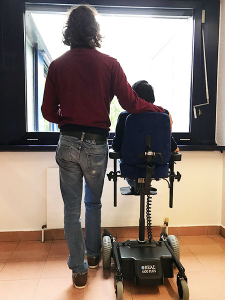 We are a family of four who live in the Seattle, Washington area. Our youngest daughter has some physical challenges. She is shorter than most kids her age, has limited balance and has fused elbows. Due to this, she cannot get on and off most chairs. Every time she wanted to get on or off a chair, someone had to lift her. By the time she was 6 or 7 she had enough and wanted her independence. We looked everywhere for a simple powered chair that she could get on and off by herself. We finally found this with the REAL 9400 Plus from Mercado Medic.
We bought her the REAL 9400 Plus and it changed her life. Prior to having the REAL 9400 Plus, our daughter was trapped in her chair and relied on us and other caregivers to lift her on and off her chair so she could move around our home. With the REAL 9400 Plus, she can do all this by herself.  She lowers the chair down to get on and off and then raises it by herself to any table height. The chair rolls easily which allows her to move the chair all over the house:  to play the piano, to sit at the counter to cook, to sit at the table and play games, anywhere she needs it. She has also used it during summer camp the last few years.
After having the REAL 9400 Plus at home for a year, her school purchased one for her. The chair she had been using at school was an old wooden school therapy chair. She was confined to one special table and needed someone to help her get in and out of her chair and to push the chair in and out from her desk. With the REAL 9400 Plus, just like at home, she can do all this by herself. She gets on and off the chair and adjusts the chair on her own. She can move it anywhere she needs; around the classroom, from room to room and all around the school. Instead of being confined to one desk or the staff having to adjust every table and desk for her, she adjusts her chair whenever and wherever she wants.
The REAL 9400 Plus has empowered her and enabled her to be more independent.
This chair has made such a difference in our daughters life that we wanted to give everyone in the United States and Canada the same opportunity.
Mercado Medic AB
Leader in Home and Adaptive Seating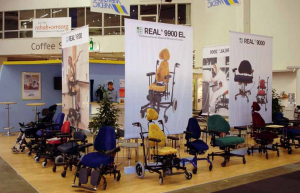 Founded in 1971 in response to an arising requirement to accommodate special needs in the workplace and at home, Mercado Medic is a well renowned supplier of specialty chairs. Since day one, Mercado Medic have strived to assist people with functional disabilities to be more independent in the workplace and at home.
We also design and produce specialty chairs to various clinics, offices and industries.
All of our products are engineered and manufactured in house at our facilities in Sweden. Products are designed in partnership with the Swedish Handicap Institute.
Mercado Medic AB has been certified in accordance with SS-EN ISO 9001:2015 and ISO 14001:2015.